When we think of customisable textiles, we often focus on clothes: T-shirts, sweaters, jackets, etc. However, some accessories are also excellent advertising media, such as customised bags or caps. SOL'S Europe, your specialist in customisable textiles, focuses on the latter in this article. Find out how company branded caps can contribute to your brand image.
Custom caps, a small but highly visible
advertising space
There is no doubt that compared to other types of customised clothing, a customised cap features a smaller printing area, allowing you to display a smaller visual or a short message. Though, it does have an undeniable advantage: it is much more visible and will therefore offer greater exposure for your brand image. Imagine a filmed speech with the camera obviously centred on the speaker: your customised cap would then be in the centre of the image. Creating a cap in your company colours is therefore the ideal solution if you wish to equip your employees for events or conferences, but also for everyday work. A cap will always be welcome during outdoor activities: you might as well seize this opportunity to put your visuals on it and create customised caps that reflect your corporate values.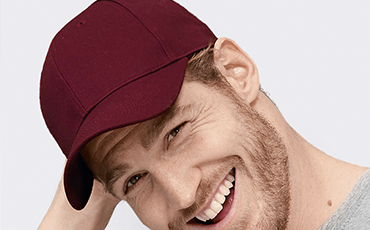 Easier cap creation: do not worry about size,
just choose the model you prefer!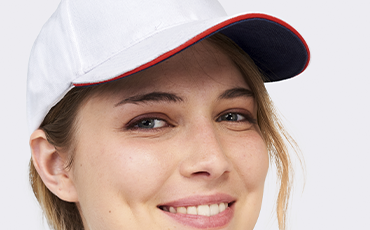 The major advantage of customisable caps is without doubt the absence of size issues. Unlike clothing, which requires you to ask for the size and sometimes even choose a cut suited to the future wearer, SOL'S caps are one-size-fits-all and can be adjusted through a Velcro strap or a buckle at back. So all you have to do is choose the product that you prefer (adult model or kids' cap if necessary) and customise it! This is particularly practical if you want to distribute your customised caps to a large number of people, whether they are your employees or even the general public. Since the wearers can adjust the size of caps themselves, you can create and distribute them without worrying about it, which makes caps great goodies for your customers and partners.
In winter, swap the customisable cap for a company branded beanie
When the weather turns cold and the sun is low in the sky, it might be a good idea to invest in the creation of customised beanies. This is all the more wise if your teams are often on the move or work outdoors, making beanies truly indispensable in winter. You can therefore combine customised beanies and caps for controlled visual communication in all seasons! Feel free to browse the SOL'S catalogues to discover our many customisable models. Should you have any questions, our teams are at your disposal to help you make your choice.