Creating customised T-shirts is the ideal solution for any event through which you wish to promote your brand, your logo or simply a particular message. Specialised exhibitions, recruitment events, conventions, publicised events... By offering your teams to wear a customised T-shirt you will benefit from an additional and particularly original communication channel! Would you like to rely on our decoration services? SOL'S Europe presents the details of its offer.
CONTENTS
For which occasions should a customised T-shirt be created?
Customising a T-shirt can be useful for different reasons. It can be used for both entertainment and business purposes. From an individual point of view, it is always nice to wear a customised garment that looks like you, with the elements you have personally chosen. You can choose the cut, colour and image to put onto it, etc. From a professional point of view (i.e. in a company), an event T-shirt is useful at different stages of a company's life:
at its launch, in order to promote & develop the brand image;

during its growth stage, to develop the brand image, at trade shows...
Unless you change your logo or colour code, the T-shirt is an accessory that will stay with you for a long time.
What are the advantages of a customised T-shirt?
The customisable T-shirt in a company is an excellent way to advertise your brand image.Corporate clothing has widely developed to the point of becoming a marketing tool in its own right. It is inexpensive thanks to the democratization of fabric decoration techniques. It is also a durable accessory that you can reuse whenever you want. Moreover, you will quickly forget that the T-shirt is actually a marketing tool. The simple fact of moving around makes your company known. The T-shirt is therefore an inexpensive medium, both in its design and use.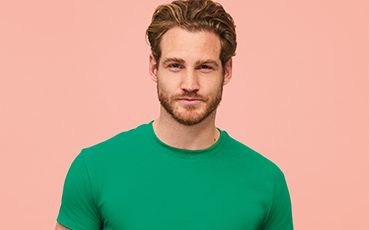 What criteria should you take into account to customise your T-shirt?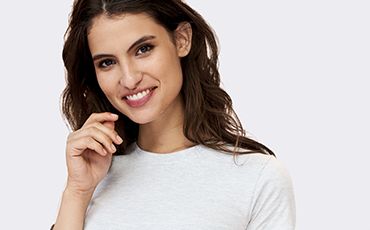 When you order T-shirts in bulk, you should establish several criteria that will be important. Firstly, your T-shirt or polo shirt should reflect your company's image: colour code, logo, slogan or any element that identifies your company. Next, you should consider the style of the T-shirt: casual, V-neck, unisex, sporty, etc. In short, there are many customisation options. We advise you to choose a T-shirt in line with your company's values. The decoration technique should also be taken into account.
How does a customisable T-shirt help you in your marketing strategy ?
A customised corporate T-shirt has both an internal and an external communication role. At trade shows, for example, it coveys the image of a united company, gathered around common values and concepts. Its also allows visitors to directly identify your group thanks to the colour code and logo on it. Internally, it will bring your employees together. The customised T-shirt is a symbol that will unite your company even more. Moreover, it breaks down hierarchical barriers based on clothing: everybody wears the same garment. Uniting is therefore the key word for corporate T-shirts..
What are the different styles of event T-shirts?
Several styles of event T-shirts are available for you to ensure a successful corporate communication. For a simple but effective result, opt for a plain T-shirt. This type of T-shirt offers a wide range of customisation options. It is inexpensive and allows you to give free rein to your artistic soul. To meet all your company's needs, many other types of garments exist: shirts, polo shirts, sweaters, caps and trousers. Nowadays, you can accompany your T-shirt with a very wide range of clothing. Thus, you can create a real outfit that reflects the image of your company.
What are the different T-shirt models offered by SOL'S Europe?
SOL'S Europe offers a wide range of customisable T-shirts to best meet your needs. Among our models, you will find cuts suited to men, women and Among our models, you will find cuts suited to men, women kids. We also offer sizes for all body shapes: slim fit, small size or plus size. Each of your employees will find the T-shirt that suits him or her! For a truly unique garment that totally meets your wishes, you can choose the sleeve length (sleeveless, short sleeves or long sleeves) as well as the type of collar of your T-shirt. Thus, you can control the look of your brand and integrate your customised T-shirts into a pre-existing work outfit, for example.
How can you easily find the right customisable T-shirt?
To find the perfect customisable T-shirt,you must first think about your communication needs (which message(s), which visual(s), which T-shirt model, etc.) but also about the people who will wear your creation. A successful T-shirt has to be both attractive and quality, but you should also consider it as a communication medium that must be readable and effective. Once you have more precisely defined your needs and goals, you can filter our on-line catalogue using the criteria that are relevant to you: gender, size, special features, etc. This will greatly facilitate your search while allowing you to keep an overview of our available products. Of course, we are also at your disposal to assist you in your project: do not hesitate to contact usr!
Why are SOL'S T-shirts suitable for everyone?
Because we are keen to meet your needs, even the most specific ones, we are constantly expanding our range of customisable T-shirts. By offering different materials, different compositions, etc. we give you total control of your garment, which is perfect to meet all your needs. Cotton, polyester, organic cotton: make the choice that suits you best! Thanks to our many available products, you can even let your employees choose the type of T-shirt they prefer: short or long sleeves, slim fit or plus size, etc. And with our unisex models, creating your customisable T-shirts is easier than ever: you can easily order the decoration of T-shirts in bulk, which is ideal for large-scale distribution or when you don't know the body shape of those who will wear them.
What T-shirt ranges does SOL'S Europe offer?
To guide you in your choice, SOL'S has classified its customisable T-shirt models into 5 main categories/ranges: Basics, Fashion, Sports, Beachwear and Workwear. The Basics range is designed for everyday use features traditional T-shirt designs. It is suitable for everyday situations. The Fashion category includes more elegant and elaborate models, such as T-shirts with round or V-neck, perfect for particularly high-quality outfits. In our Sports range, you will find our models suited to sporting events such as jerseys or T-shirts with fastened raised collars. For events under the sun, the Beachwear collection is the ideal solution with its sleeveless and lightweight models. Finally, our Workwear category includes high visibility models with reflective strips, to combine customisation and safety.
What are the guarantees and commitments of SOL'S Europe?
Choosing SOL'S for your T-shirts means opting for a quality partner who is attentive to your needs. We are strongly committed to offering products that are both environment- and health-friendly through the OEKO-TEX standard. This certification guarantees that the final product does not contain any harmful substances to the wearer's health. We also have products made from 100% organic cotton, for clothing that is even more environmentally friendly.