Wearing an apron is very common for people working in the catering industry: cooks, waiters, cashiers, etc. It is the iconic outfit of the HoReCa sector but also a communication channel that is often under-exploited by professionals. By creating customised aprons at the best price, you and your employees will be able to display your brand or your company name in all circumstances, boosting your visual communication and benefiting your brand image.
Choosing the right apron model for your company's needs
The first step in creating a customised apron is choosing the initial model that will display your logo and message. In order to meet your most precise needs, SOL'S offers you different customisable aprons: the traditional bib apron with pocket is a must, perfect for all catering professionals. Elegant and especially designed for café or restaurant waiters and waitresses, the customisable waist apron is ideal for both the hotel and catering industries. With its waist fastening system, it can be easily worn with any type of outfit and offers two front pockets.
Take care of the aesthetic aspect of the apron to be customised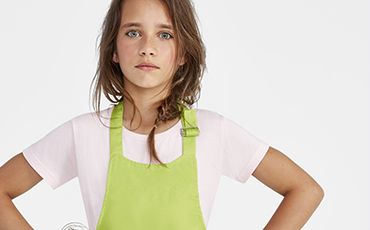 Once you have chosen the customisable apron you wish to use, you must select the colour of the garment. For our simple models, there are up to 18 available colours: make your choice according to the corporate identity of your company as well as to the visual that you wish to apply. You should keep a visual harmony for your customised aprons to make them pleasant to see and wear. Our SOL'S Grant customisable denim apron is an exception: with its raw denim style, it is only available in dark blue. While it offers a touch of elegance and authenticity, you'll need to carefully think about the visual to put on it to get an attractive customised denim apron.
Opting for customised aprons for your corporate activities
Creating customised aprons is also an excellent idea if you regularly organise team-building activities in which wearing an apron is required: creative workshops, cooking, etc. You can also give them as a gift to your employees and loyal customers to celebrate certain events or simply to thank them for their presence and involvement! Do you want to know more about our available customisable aprons or the details of our offer? Do not hesitate to contact us, the SOL'S teams are at your service by e-mail at sols@soloinvest.com or by phone at +33 (0)1 42 21 16 84. We will be happy to assist you in your projects.