Do you want to vary your visual communication media by creating customised garments? They are indeed very powerful promotional items, offering your company great exposure. Customised fleeces are en excellent example: they offer a large printing area and are designed for outdoor activities and cold climates. SOL'S, expert in customisable textiles, will guide you in the creation of your customised fleece jackets.
Customised fleeces, the ideal garments for outdoor activities
Fleeces are designed to be worn in low-temperature areas (e.g. warehouses) or outdoors, when the weather conditions are unfavourable. They are therefore particularly suitable garments if your employees are often outside in the cold or wind. Customised fleeces will then be welcome, both to protect them from the cold and to highlight your brand. You could gain a very strong visibility, especially if your employees are in contact with a wide audience. Investing in customisable fleece jackets is therefore a good idea for an outdoor event, for example, or as part of your employees' traditional work outfits. It is a low-cost marketing action if you consider the exposure it gives you: your customised fleeces can be reused many times, until they wear out or you wish to change the visuals they bear.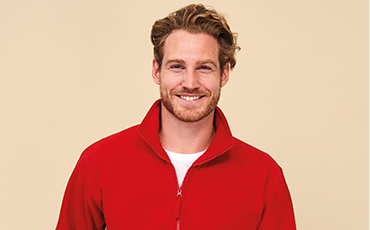 Criteria to consider when choosing the right fleece model to customise
In order to obtain successful customised fleeces rit is necessary to select the right models according to various criteria. Firstly, find out as much as you can about the body shape of your employees. By defining the user profile, you can choose the right cuts and sizes. If possible, it is therefore very important to survey your employees beforehand in order to gather important information for the choice of the fleeces to customise. You should also consider the conditions of use of your customised fleece jackets: do the wearers need pockets to store tools or documents? Do they need great freedom of movement? By defining as precisely as possible the context of use of your customised fleeces, you will be able to make the right choice. For example, sleeveless fleeces are an excellent idea for employees working in a warehouse.
For a successful corporate fleece jacket, consider beforehand the decoration to apply
Once you have found the models of customisable fleece jackets fleece jackets you wish to use, you will need to choose the base colour carefully: this must be suited to the visuals that you will apply later (matching colours, homogeneity, optimal legibility, etc.). Also make sure that the garment you choose is suitable for the desired decoration technique: embroidery, screen-printing, transfer printing, etc. Should you have any doubts about which models to choose, do not hesitate to contact our teams. We are available by e-mail at sols@soloinvest.com or by phone at +33 (0)1 42 21 16 84 to help you with your project.