Whether it is jerseys in the colours of the teams involved or T-shirts celebrating a major sporting event, any sports fan will appreciate a customised textile product. To give as a gift to your employees or to offer to your customers and prospects, the customisable sports T-shirt is a must! You can even use it internally at your company's sporting events. SOL'S Europe, your supplier of customisable clothing, illustrates its advantages in this guide.
The customised sports T-shirt to unite people around a team or an event
The main strength of an event T-shirt is its ability to appeal to the wearers' affection and encourage them to join a defined group of individuals. Team jerseys are an excellent example of that, since they go far beyond their functional role and represent above all a sense of belonging and support shared by each supporter of the team in question. Creating your own customised sports T-shirts allows you to use this strength to your advantage! If you are a sporting event organiser, giving your audience these customised garments is ideal to maximise their affection for one of the teams and for the event as a whole. Obviously, customisable T-shirts are not the only textile media to consider: caps, sweatshirts or tote bags are also suitable.
The event T-shirt as a merchandising item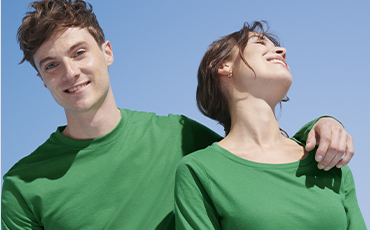 Customised clothing is a powerful communication tool, but you can also turn it into a source of income if the event you are promoting is well known. Yourevent T-shirts or customised accessories can be sold to visitors and become part of your merchandising strategy, allowing you to partially or totally reimburse the production cost. If your sporting events or the players who take part in them are highly appreciated by the public, this type of event clothing can even be sold throughout the year via your e-commerce shop, for example.
Customisable sports T-shirts for your in-house sporting events
The customised sports T-shirt can also be considered as a vehicle for cohesion during your team-building sporting events: equipping each employee with the kit designed for the occasion is a very appreciable extra touch. By doing so, you increase the overall sense of belonging and strengthen the bonds between your employees! Ideally, once the event is over, give the participants the customised T-shirts you have created, a token of appreciation that will have a big impact on their feeling towards the event as a whole. If you want to find out more about the range of customisable textiles that you can use for your sporting events do not hesitate to contact the SOL'S Europe experts by e-mail or phone.