Customised textiles are often integrated into corporate communication, providing an excellent medium for your brand image. Whether it is for a new product launch, a professional event or a public awareness campaign, there are many reasons to invest in such a promotional item. SOL'S presents in more detail the customisable sweater, a garment that offers many advantages as an advertising item.
The customisable sweater, a timeless
garment loved by all
One of the main advantages of customisable sweaters is undoubtedly their versatility: they can be worn at professional events as well as at meetings or gatherings with your public. The sweater is a neutral garment that can fit into your casual or corporate work outfits, offering maximum visibility to your brand image. The fact that it is appreciated by everybody is also another strong point: since the sweater is a common garment worn by all, it will be more than easy to convince your employees to wear it. You can even distribute it to your customers or partners as a gift, or even integrate it into a merchandising strategy. If your brand image appeals to the public and your customised sweaters are well made, they will be doubly effective as promotional items!
A sufficiently large printing area to ensure the visibility of your visuals and messages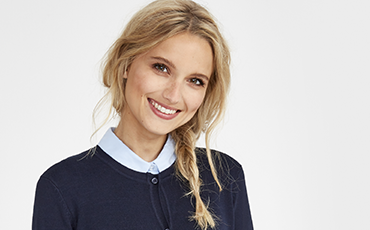 To be truly successful, a customised garment must be carefully considered. A common mistake when creating this type of item is to neglect the legibility of messages or even to overload the item, for example by using a too small font when printing on a cap. The customisable sweater has a large printing area, on the front and back as well as on the sleeves, a feature you can exploit. Beforehand, identify and select precisely the visuals you want to apply to your corporate sweater. Make sure it is of good quality, for example by making a "test" print to evaluate the result. Remember that the effectiveness of your customised garment will be closely linked to the quality of both the garment and the print. This is why it is essential to rely on the services of a real specialist in customisable textiles!
Choose from a wide variety of models: hoodies, sweatshirts, supreme sweaters...
SOL'S offers you a wide choice of models to create the customised sweaters that best suit your specifications: button-up or zip-up cardigans , round or V-neck sweaters, etc. Make your choice according to your preferences or the look you want to give to your promotional clothing. You can even choose an assortment of models to vary the look of your corporate sweaters. From sweaters to sweatshirts or hoodies, there is only one step: feel free to browse through our other available collections, you will certainly find a garment model that will fully suit your needs. For example, our SOL'S SUPREME sweater is a classic model that will suit all uses: professional or more casual. If you need help in choosing the right customisable sweater model, do not hesitate to contact our advisors by phone at +33 (0)1 42 21 16 84 or by e-mail at sols@soloinvest.com.