Born in the United States, initially worn by American athletes before and after exercise, the sweatshirt has conquered the planet, particularly Europe. A comfortable, casual and trendy garment that has become an essential everyday piece of clothing, attracting more and more young and old alike. The customisable sweatshirt has become particularly popular in the world of education, whether in prestigious higher education establishments or in campuses, as a sign of attachment to the identity and values of the establishments whose name, crest or colours it bears.
Sweatshirts and university, a long story...
The history of the sweatshirt goes back to the 1920s, when the young American quarterback Benjamin Russell Jr. created with his father, who owned a textile company, a lighter and less chafing alternative to the traditional woollen football jerseys. From the 1960s onwards, it gained a reputation on campuses across the Atlantic when universities began printing their names on this garment. For students and parents alike, the customised sweatshirt with the university name on it quickly became an iconic garment for exhibiting pride in their institution. Since then, cinema, sport and especially the jogging trend have largely contributed to conveying this image as a promotional tool and to making this garment very popular among young people. The customisable sweatshirt is now an essential identification and promotion item, particularly for universities, student associations and student councils, or to communicate during a school event (integration weekend, gala evening, sporting event, etc.).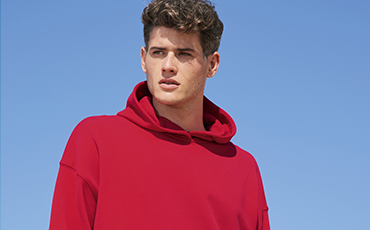 What type of customised sweatshirt should you choose?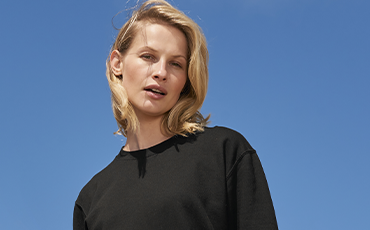 There are several types of sweatshirt: the classic long-sleeved sweatshirt without hood, the less common short-sleeved sweatshirt or the increasingly popular hoodie. It can be equipped with pockets, either a large one on the front also called "kangaroo pocket" or "pouch pocket", or two side pockets. The one-piece body of the garment offers a large decoration area and many customisation possibilities (crest, inscription, motto, catchphrase, etc.). If the type, size, colour and decoration technique (embroidery, printing, CAD cut vinyl printing) are obviously important criteria for the choice of a customisable sweatshirt the quality of the fabric used to manufacture it should not be neglected so that the garment keeps its aspect, stays comfortable and is wash-resistant. It is advisable to choose an organic cotton customisable sweatshirt, which is fee from dangerous chemicals and environmentally friendly.
Why rely on SOL'S Europe to buy your customisable sweatshirt?
SOL'S Europe, customisable sweatshirt wholesaler offers a wide selection of garments to customise, varied in terms of sizes and colours, so that schools, classes, university groups, associations or student circles can create the perfect outfit reflecting cohesion and a sense of belonging. We are strongly committed to providing you with a large number of blank models to enable you to create a garment that fully meets your expectations. We also pay particular attention to the quality and traceability of our products. Our range of customisable sweatshirts and zip-up jackets is certified as being made from 100% organic cotton. The OEKO-TEX standard 100 certification guarantees that the end product does not contain any substances identified as being dangerous to the health of the person wearing the garment. To discover our selection of models, consult our section dedicated to customisable clothing for student associations and schools.