Do you want to integrate customisable textiles into your communication strategy by creating garments in your company's colours? It is indeed an excellent medium of expression that you can use both internally and externally, though you must not neglect certain points of your project and in particular the type of clothing you are going to use. The textile quality will determine the durability of your print, the comfort of the item and the values it conveys: this is why opting for customisable textile products made of organic cotton is an excellent idea.
Creating customised clothing made of organic cotton:
an environmentally responsible approach
The main advantage of an organic cotton garment is its lower impact on the planet: cotton production is a particularly energy-intensive activity that requires large quantities of water as well as herbicides and insecticides. Organic farming therefore aims to reduce this environmental impact by banning the use of chemical products and fertilisers, but also by guaranteeing soil fertility through environmentally friendly farming techniques.

Thus, a garment made of organically grown cotton tel such as a model from our new SOL'S collection, is more eco-friendly. By using it to create your customised corporate clothing, you show your concern for these key issues. Your staff and your public (if you plan to distribute this textile product) will also be much more inclined to wear your organic cotton garment, , being aware of your ecological approach.
An organic cotton T-shirt, more pleasant and
healthy to wear every day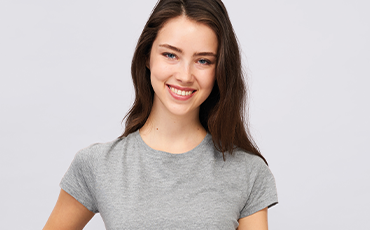 In addition to the ecological aspect, you should not overlook the positive impact of organic cotton on wearers' health. Indeed, chemicals that are harmful to human health and to the ecosystem are banned at every stage of production, from cultivation to fibre processing. This means that the users of your customised organic cotton garments are not in daily contact with these possible harmful agents.

Imagine that you are planning to create customised T-shirts, i.e. garments that are in direct contact with the skin and subject to regular rubbing: opting for an organic cotton model is therefore essential to prevent any health risk. SOL'S Europe is aware of these issues and is Oeko-Tex certified, which means that all our customisable clothing is free from substances that are harmful to health.
The many uses of organic textiles:
organic cotton bag, sweatshirt, polo shirt...
The advantage of organic cotton is that you can use it to create a wide range of customised clothing and accessories such as organic cotton bags, for example. Our new collection offers a wide choice of organic cotton T-shirts, polo shirts and sweaters, giving you an ecological alternative for your promotional items. You can also find our 100% organic cotton bags on which you can put your logo or visuals and thus distribute practical and ecological items to your employees and partners. SOL'S experts are at your disposal to answer any questions about our organic products, accessories and clothing made of organic cotton.