Do you run SPAs, hotels, fitness centres or thermal baths? Do the experiences you offer to your customers involve some contact with water? Then the use of customisable towels is very likely an important pillar of your brand strategy. If not, let us guide you: SOL'S Europe, supplier of blank textiles for professionals, shows the advantages customisable towels.
Customisable towels: transforming a practical object into a communication medium
If you run one or more facilities requiring the use of terry towels, you already bear the cost of purchasing these items. Opting for customisable towels allows you to give them a second function: they become powerful communication tools, vehicles for your brand image or for any message you wish to convey. Let's take the example of a hotel with a SPA and a swimming pool available to its guests: investing in customisable towels allows you first to assert the care you give to your guests and their comfort. Secondly, each use of your customised terry towels will strengthen your brand awareness.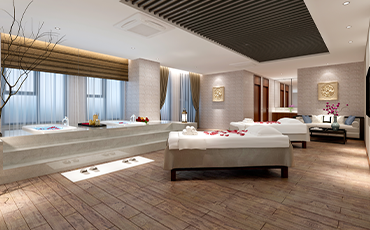 To go further, invest in customisable bathrobes!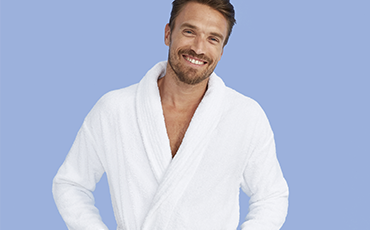 Compared to other customisable textiles, towelling products have a strong advantage: they are used in moments of pleasure and comfort, so this allows your brand to be associated with a positive moment in the minds of your customers. The customisable bathrobe is undoubtedly the perfect product to make the most of this beneficial association for your visibility. By purchasing customisable bathrobes for your facility, you take advantage of the strength of this promotional item while increasing the comfort of your customers. Compared to a simple towel, the bathrobe conveys luxury values that your customers will associate with your brand: an advantage that can differentiate you from the competition while making a lasting impression.
Do your customers keep these items after their stay? One more reason to opt for customisable towels
So far we have talked about the power of customisable towels and bathrobes when used by your customers in your facility. But in some cases, it is possible that your guests keep these items: purchase, gift, treat for privileged customers, etc. In such situations, their power as communication items is increased tenfold. Indeed, a customer who keeps his/her customised bathrobe or towel is very likely to use it again, but this time in another context, outside your company. By doing so, they will show your logo or brand to many people, allowing you to expand your brand awareness and reach new prospects at the same time. This is one of the strengths of customisable textiles: their effect is long-lasting without requiring any additional investment on your part. If you want to find out more about our different ranges of customisable bathrobes and towels, please do not hesitate to contact our experts by e-mail or phone.