To highlight your brand in an original way,it is becoming increasingly common to use goodies and accessories of all kinds. To stand out even more from your competitors, Sol's Europe, expert in customisable textiles, also invites you to discover its entire range of customisable towels. Whether you are looking for a quality gift for your employees or for suitable equipment for your facilities (hotels, restaurants, saunas, etc.), discover in this article all the advantages of customisable towels.
Customisable towels, an original communication medium
When you want to promote your brand or a message, goodies such as customisable towels are an original and effective alternative to other communication media. You can spotlight your brand at events or on business trips by distributing your towels to your customers or employees.
Sol's Europe also provides you with customisable bathrobes, an ideal solution to simultaneously boost your brand awareness while increasing your customers' affection for your company through a customised gift. A towel is one of those practical items that people use every day: each use of your customised towel will be a reminder of your brand, even years after receiving it!
Using a customisable towel for your hotel, spa
or beauty salon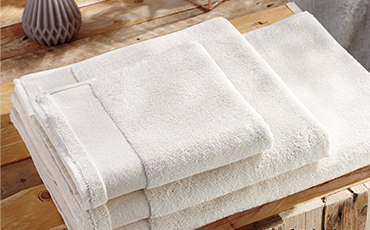 If you run a hotel, a beauty salon or a spa for example, the daily volume of towelling products circulating in your facility is certainly very important. Why not turn each of your towels or other towelling products into a potential communication medium? Using customisable towels, in your company's colours or embroidered with your logo, will allow you to increase your exposure while remaining professional and distinguished. Our on-line catalogue offers you a wide choice of towels to customise enabling you to gain credibility while promoting your brand. Customisable bathrobes bath sheets, beach towels or microfibre towels? Whatever your needs, choose from a wide variety of models, sizes and colours to select custom accessories for your business.
Working with an organic textile distributor for environmentally responsible corporate clothing
Whether you want to give accessories as gifts to your employees or equip your facility with quality products, Sol's Europe offers you a variety of quality customisable towels. Our products are available in different sizes from 30 x 50 cm to 100 x 160 cm, to perfectly suit your customers' needs. For example, the 100 x 160 cm customisable towel model will be perfectly suited to swimming pools, spas or thalassotherapy centres thanks to its size and thickness. Do not hesitate to choose a customisable bathrobe model which will be particularly appreciated for its comfort in a period of relaxation.