Are you looking for an original medium for your corporate communication? Why not opt for the customised sweatshirt? Designed to equip your employees as well as to give as a gift to your customers, the customisable sweatshirt ensures high visibility for your visuals while allowing you to stand out from the traditional customised T-shirt by opting for a more elaborate garment. SOL'S offers you this guide to help you choose your customisable sweatshirt.
CONTENTS
Why should you include customised sweatshirts in your marketing strategy?
Customisable sweatshirts are powerful promotional items that you can integrate into your communication plan: they allow you to display your logo or message in an effective and durable way, and they can be reused many times. Compared to other types of garments, customised sweatshirts feature a large printing area both at the front and back, allowing you to combine a visual and a text excerpt, for example, while ensuring optimum legibility. Opting for customised sweatshirts allows you to reach a wide audience at a low cost: every use of your customised garment will expose your brand image, which can be particularly powerful at public events. Practical and easy to match with your daily outfits, you can also distribute them to your employees, partners or customers as gifts!
Is the customised corporate sweatshirt suited for internal or external communication?
The customised sweatshirt is a versatile communication medium that will benefit both your internal and external communication. Internally, it is a symbol of cohesion that will facilitate adhesion to your corporate culture, especially if your corporate sweatshirt is of quality and comfortable to wear. You can, for example, distribute it at team-building events or to celebrate the success of a project: these attentions are appreciated by employees and help to strengthen the existing links between each of them. But it is especially in your external communication plan that the customisable sweatshirt will be a real asset. As soon as your employees meet an external audience, the visuals you have chosen will be visible and will contribute to the reputation of your company. This type of visual communication is effective, making a lasting impression while allowing people to quickly identify the various members of your company when they are in the field.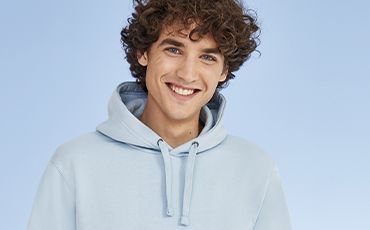 At which professional events should customised sweatshirts be used?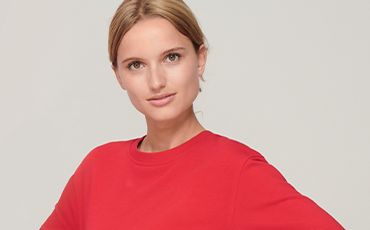 Sweatshirts are versatile garments that can be used in a wide variety of situations. They are particularly suitable for outdoor events, offering protection from the weather, but they can also be used indoors on your premises or at trade shows, for example. Though, some models like hoodies feature a « casual » look that may not be the most suitable for formal events such as business meetings. Considering the type of event where your customised corporate sweatshirts will be worn will help you to choose the most appropriate model. In case of variable temperature, zip sweatshirts can be taken off if necessary (ideally wearing a customised T-shirt underneath) and are therefore particularly recommended. However, for outdoor events, a hooded model will be the best choice to protect your employees in case of bad weather.
How to successfully integrate customised sweatshirts into your employees' work outfits?
Complementing your teams' work outfits with customisable sweatshirts is a great idea to maximise the exposure of your visuals during working hours. This way, whether they are on your premises or on a business trip, your employees will be immediately identifiable as members of your company, ensuring its reputation. But for your corporate sweatshirts to be effective, they need to be suited to your employees' activities! First of all, consider what type of task your employees usually do and in what context. Can they get too hot? Then choose a zip fastened model. Do they need to have some tools or documents close at hand? Sweatshirts with a kangaroo pocket can be useful in such situations. Your customised garment is certainly a promotional item, but it must first and foremost be practical and pleasant to wear for your employees. If you cannot answer these questions beforehand, then it is advisable to opt for a versatile model such as the SOL'S Supreme unisex sweatshirt with a round neck.
Distribute or sell your customised corporate sweatshirts
Customised garments can also play another role that can be very effective: you can distribute them as gifts to your customers or even to the general public. At first, this promotes appreciation of your company by individuals who will be happy to receive a sweatshirt, which is a much more impressive gift than a company branded small goodie such as a keyring. In a second step, these people will also wear your corporate sweatshirt but being in contact with a very wide and more varied audience than your employees. This represents a potential gain in terms of exposure that should not be neglected. If your customised sweatshirts are particularly appreciated (high quality, originality, association with a product or service that unites a community, etc.), you can also transform them into fully-fledged merchandising items: selling your customised clothing allows you to reduce the costs of your communication campaign and even generate additional turnover.
For which context are customised sweatshirts for kids suitable?
While most customised sweatshirts are made for adults, there may be a place for customised clothing for kids in your communication plan. In which situations can you use customised sweatshirts for kids? Firstly, if you want to offer sweatshirts as a thank you gift to your employees but also to their families, at Christmas time for example, it can be interesting to provide for kids' models. Customised sweatshirts for kids are also interesting to sponsor extra-curricular activities such as sports associations: they allow kids to benefit from an official club outfit before and after competitions, and thus participate in the club's awareness while offering visibility to your company. However, attention must be paid not to create kids' sweatshirts with overly corporate messages. It is advisable to aim at a simple, even slightly funny communication to obtain the best results.
How to choose the right sweatshirt model to customise?
When creating a customised sweatshirt, there are obviously a number of criteria to take into account in order to have the best possible product:&nbsp:
The material of the customised sweatshirt: do you prefer a sweatshirt made of natural materials (100% cotton) or of synthetic fibres? The material will also have an impact on your company's brand image, especially with the general public who tends to have a greater appreciation for natural products.
The base colour: choose one or more colours that will serve your goals while ensuring that your visuals remain clearly legible. Do you mainly wish to increase your visibility? Then opt for bright colours that catch the eye, while ensuring to comply with your company's graphic charter. For more discreet or formal sweatshirts, choose sober and classic colours: black, grey or white.
The sweatshirt design: do you want a customised sweatshirt with or without a hood? With a kangaroo pocket? A pull-on model or one with a front full zip like the SOL'S Spike Men? The design should be chosen according to the people who will wear the sweatshirt, but also to those who will observe it: more formal models will be appreciated in a professional setting, whereas the general public will generally prefer more casual sweatshirts.
What are the different ranges of sweatshirts you can customise with SOL'S?
SOL'S is the specialised supplier for your clothing to customise: our range of customisable sweatshirts is therefore wide in order to meet all specifications. We offer sweatshirts for men, women and kids, but also unisex models for more convenience when ordering or when you do not know beforehand the gender of the recipients. As mentioned above, you can then narrow down your choice according to different characteristics in order to find the customised sweatshirt that best suits your needs: colour, size, fastening system, pockets, as well as weight or type of weather. Finally, there is one last criterion not to be neglected before placing your order: the decoration technique that will be applied to your future corporate sweatshirts.
What decoration and customisation techniques can you apply to SOL'S sweatshirts?
SOL'S sweatshirts are suitable for many different decoration techniques:
Embroidery, i.e. drawing the logo or text by embroidering with yarns of different colours
Screen printing, i.e. printing with stencils
Digital printing, which simply consists in printing your artwork with a laser printer on your sweatshirt
Transfer printing, by using a special paper that is applied onto the garment with an iron
Or finally the flex printing, commonly called vinyl printing
It is important to know in advance the desired decoration technique for your customised corporate sweatshirt so that you can choose a suitable model. Finally, don't forget that the cheapest methods are often the ones with the shortest lifespan: investing in a durable garment and then applying a quality print onto it is the best way to guarantee the success of your project.
Why choose SOL'S for your customisable sweatshirts?
SOL'S is a brand of customisable clothing that offers customisable sweatshirts, but not only: we offer many other customisable textiles and accessories that you will find on our website. Working with SOL'S means benefiting from more than 30 years of expertise and know-how in customisable textiles, which is constantly enhanced to best meet professionals' needs. By choosing SOL'S, you opt for a quality partner that guarantees the quality of products and the respect for the health of future wearers through the OEKO-TEX certification. Finally, following an environmentally responsible approach, we offer products made of 100% organic cotton, which will fit into your company's or association's environmental policy.