Are you looking for an innovative and effective means of communication? The customised bag is an excellent medium for increasing the visibility of your brand! Both practical and attractive, it will delight your employees, partners or customers while communicating the desired message. Choosing a bag in your company's colours means transforming an everyday object into a real communication medium: it will catch the public's eye and leave a lasting impression. SOL'S, the leading brand in customisable textiles, offers you a wide range of customisable bags to best meet your needs. Discover our tips on how to choose your customised bag and integrate it into your marketing strategy.
CONTENTS
What are the advantages of customised bags for your communication strategy?
There are many advantages to using customised bags as part of your communication strategy. Their main strength is undoubtedly the customisation area they offer, which is much larger than that of a cap, for example. Moreover, their frequent use in everyday life (for carrying documents in a briefcase, for travel, for shopping, etc.) gives them a high potential exposure once they are in the hands of end users.

This everyday practicality will greatly increase your visibility at all times, on the street or in public transport for example, turning the bag into a walking visual medium for your company. Thus, you achieve a double goal: pleasing those who receive it (customers, partners or employees) while boosting your brand exposure when they use it. Finally, a customised bag is also an excellent way of building customer loyalty if you decide to offer it as a thank you or to distribute it, which will contribute to the goodwill they feel towards you.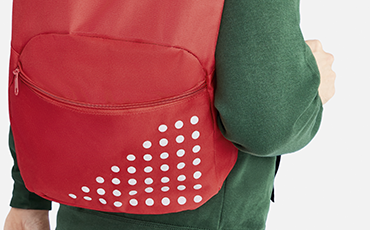 Customised bags: an internal or external
communication tool?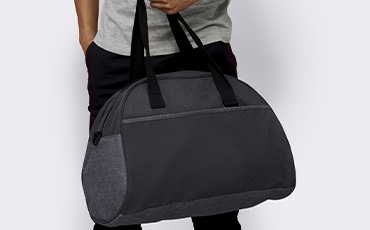 For effective communication, it is important to implement the right internal and external communication tools. To use customised bags as part of your internal communication, you can, for example, give them as gifts to your employees for end-of-year celebrations. It is an excellent way to thank them for their involvement and to highlight the group spirit, thus creating a pleasant working atmosphere. As external communication media, your customisable bags integrating them into your employees' equipment so that they can display your logo or message to the general public; placing them prominently during televised events; distributing them for a specific occasion, etc. Customised cloth bags such as tote bags, for example, will be very much appreciated by the general public, who will always be able to find a use for them. Thus they will turn into a communication medium for your brand image.
For internal use: choose the right type of bag for your employees' needs
If you decide to give a customised bag as a gift to your employees, you must ensure that you choose a model that is suited to their needs in order for it to be truly useful. For example, if they are technicians working on site or at customers' premises, it is wiser to give them a backpack that will be more practical for their tasks (to store tools, documents, etc.). On the other hand, for the sales department, we advise you to give them an elegant briefcase that they can take to their meetings. Focus on your teams' needs to find the right model as your customised bag will be much less effective if it is not practical and your employees prefer not to use it. SOL'S Europe offers you a wide variety of customisable bags to best meet your requirements: travel bags, sports bags, duffel bags or shopping bags.
For distribution: opt for a universal model such as the customised canvas bag or tote bag
If you decide to distribute a customised bag to the general public, we advise you to choose a universal and versatile model to ensure that it appeals to the greatest number of people and is therefore used on a large scale, thus benefiting your brand exposure. Opt for a customised canvas bag, which is the trendy model of the moment, particularly appreciated by users. Known for being a practical and above all eco-friendly bag, the customised cloth bag appeals to the general public and conveys an environmentally responsible image of your brand, which encourages companies to use it as a communication tool. To this end, SOL'S Europe offers a wide range of tote bags to customise with your logo, such as our striped jersey tote bag: a trendy communication tool that will delight all types of public.
In which situations should a customised
photo bag be used?
To further enhance the communication potential of a customisable bag, you can add a photo: creating a customised photo bag can help you stand out from the competition. By inserting a high quality or particularly iconic photo, your bag will be all the more attractive and therefore more effective for your communication. A customised photo bag can be used in various situations: for example, if you sell sports equipment and partner a famous athlete, you can put his/her photo on your bag and thus indirectly benefit from his/her popularity. The same goes for any flagship products or locations that would represent your brand or company particularly well in the public's mind.
What are the main types of customised
bags offered by SOL'S?
In order to best meet your needs and specifications, we offer several ranges of bags to customise: backpacks, briefcases, sports bags and canvas or cloth bags. You can then select the bag model that best suits the uses or preferences of the end-users and thus ensure that your bag is actually used and appreciated. If you want to make your choice according to the look of the bag, you can filter our catalogue of available models to customise according to 6 ranges: Fashion, Basics, Corporate, Sport, Outdoor and Organic. Choose the one that best matches your brand values and the style of your teams' work outfits.
To go further: opt for bags that totally reflect your company's image
If your teams travel for work, you can also find customisable suitcases or travel bags on our website. For example, our trolley travel bags have a large storage capacity thanks to their size: 79 x 31 x 39 cm, i.e. an estimated capacity of 94 l. Moreover, thanks to their size, our trolley bags allow for big prints and are therefore excellent media for displaying any large format visual. It is also possible to create such a customised bag if you are targeting an audience of tourism enthusiasts: it can therefore be a good addition to your existing merchandising, if applicable.
What are the suitable decoration techniques for SOL'S customisable bags?
In order to guarantee the quality and therefore the effectiveness of your visual communication medium, whatever the type of garment or item considered, it is crucial to opt for a model suited to the desired decoration technique. Some materials are not suitable for screen printing, dye sublimation or transfer printing, as they would result in low quality and visuals may fade quickly. To avoid this risk and to be sure that your customisable bag is suitable for the decoration technique you have chosen, you can filter our catalogue according to this criterion. In total, our products offer the possibility to use 7 different decoration techniques: screen printing, transfer printing, embroidery, flex printing, dye sublimation, digital printing and laser engraving, so be sure to take this into account when creating your customised bag in your company colours.
The importance of the base colour when choosing your customisable bag model
Here is another piece of advice we can give you to create successful customised bags: pay particular attention to the base colour of the bag you choose. This colour must be particularly suited to the visual you wish to apply to your bag in order to guarantee its aesthetic result and legibility in all circumstances. Avoid choosing a background colour that is too similar to that of your visual, or one that does not go well with it. If in doubt, the best thing to do is to seek the advice of your graphic designer or of the person who designed your visual, as he or she will certainly have the necessary knowledge to guide you towards a suitable base colour for your customisable bag.
Why rely on SOL'S Europe to buy your customised bags?
SOL'S Europe is a specialist in image textiles: designing garments and items intended to become effective communication media is our business. By choosing SOL'S as your supplier for the creation of your customised bags, you benefit from all the expertise of our teams, who will be happy to help you make your choice and answer all your questions. Furthermore, our products are certified and comply with the OEKO-TEX standard 100, which guarantees textiles free from toxic substances for the future wearer, audited and controlled by the French Institute of Textiles and Clothing IFTH (Institut Français du Textile et de l'Habillement). Quality and respect for users and for the planet are our daily priorities in order to offer you increasingly reliable, durable and environmentally responsible clothing and items. Our teams are at your service: contact us by phone at +33 (0)1 42 21 16 84 or by e-mail at sols@soloinvest.com, we will discuss your customised bag project together.