More and more companies are taking advantage of promotional clothing as an internal or external communication tool. It can be used in many different ways: customised clothing for internal teams, merchandising for the general public for the brand promotion, etc. But it is also a communication channel that is constantly evolving, both in terms of the media and the decoration techniques used: the rise of organic advertising textiles is a good example. SOL'S Europe, supplier of customisable corporate clothing, also allows you to combine textiles and respect for the environment trough its range of organic textiles and in particular through its organic cotton customisable T-shirts.
The promotional T-shirt, a powerful, original and economical communication item
As we mentioned in the introduction to this article, advertising textiles can be fully integrated into your communication strategy in the same way as more traditional media. Creating customised corporate T-shirts for example, is an ideal solution for ensuring visibility to your brand on your employees' outfits, both at your workplace and during events or business trips.
You can also create customised garments to distribute to your partners, customers or any other public that comes into contact with your company. These garments will bear your message and your image, ultimately contributing to your brand awareness with each use. But such a promotional item is more effective if it is appreciated and frequently used: this is one of the strengths of the organic cotton customisable T-shirt.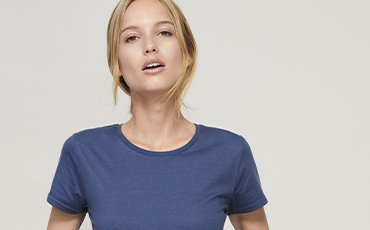 Combining impactful messages, innovative media and environmentally responsible commitment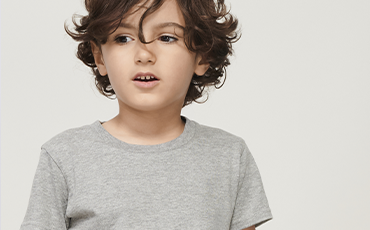 The use of an organic or recycled textile product for your customised clothing allows you to anchor your communication in a more environmentally responsible approach. A beneficial gesture for the planet, but also for your company's image! Indeed, the choice of an organic cotton customisable T-shirt will show a positive image of your brand to all wearers by reflecting your environmental commitment. Moreover, by choosing organic cotton for your promotional clothing you will provide end-users with a durable and high-quality textile product. Committed to designing healthy, high-quality customisable clothing, SOL'S Europe is OEKO-TEX certified which guarantees that all our products are free from substances that are harmful to health.
Discover the SOL'S Europe range of organic cotton customisable T-shirts
You can directly access from our website all our organic cotton customisable T-shirts. Our men's, women's and kids' models are available in more than 20 colours and 8 sizes to enable you to create the advertising T-shirt that best meets your specifications. Of course, we also offer other organic cotton customisable garments, such as organic polo shirts or sweatshirts should this type of product be more suited to your needs. If you have any questions or need help, please do not hesitate to contact our team, we will be happy to answer you.